Salmon Oil & Treats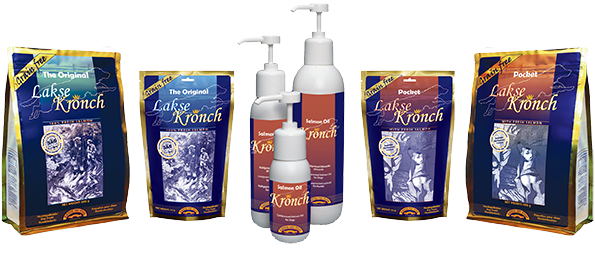 Just like our Premium complete feed products, our treats are also based on real fresh salmon, and are a tasty feed stuff, which is perfect for reward training.
Lakse Kronch treats are made from real fresh salmon, and are naturally rich in the essential omega-3 and omega-6 fatty acids.
One can also choose to increase the dog's intake of these healthy fatty acids, by adding our cold pressed salmon oil to the dog's diet. Cold pressing preserves the high concentration of these fatty acids. Omega-3 and -6 are also known to have an anti inflammatory effect. In addition to improving the dog's health, they also give the dog a beautiful and shiny coat. The salmon oil is poured onto the dog's usual feed, with the help of our practical dosage pump, creating a tasty sauce for your dog.